About the Friends of New Walk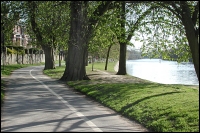 The Friends of New Walk is a community action group, founded in 2001, with the aim of promoting York's New Walk as an amenity and resource for local residents and visitors alike.
The New Walk runs along the east bank of the River Ouse from Tower Gardens to the Millennium Bridge, a distance of about 1.2km (3/4 mile). In origin it was a tree-lined riverside promenade laid out in the 1730s as part of the City's attempt to make York a leading social centre in the north of England. Today it provides an invaluable traffic-free routeway and strip of green space which extends into the heart of the urban area. It is enjoyed and appreciated by the whole community.
Since its foundation Friends of New Walk have:
established a positive working relationship with the City of York Council whose officers consult us on a wide range of issues.
campaigned on a number of specific matters including effective drainage and post-flood cleaning. the provision of refuse bins and enhancement of grass cover.
commissioned a Landscape Management Plan from an environmental consultant to give us the specialist advice we need to develop a vision for the future management of the New Walk.
The Friends of New Walk are run by a voluntary Management Committee who organise campaigns and events on behalf of members. The Committee elections take place annually at the Annual General Meeting held in Spring. We currently have a membership of about 100 households. New members of the Friends are welcome at all times (please see the Membership page).